How to Register for Myslots Application - Step-by-Step Guide
Myslots is a user-friendly scheduling app that simplifies the process of booking appointments and managing your schedule. Whether you're a business owner or a busy professional, this app can help you streamline your daily routine and make scheduling hassle-free. In this article, we'll walk you through the process of how to register for Myslots Application and getting started with this powerful scheduling tool.
Download and Install Myslots
The first step to registering for Myslots is to download and install the app on your device. The app is available for both iOS and Android devices and can be downloaded from the App Store or Google Play Store. Once you've downloaded the app, open it to begin the registration process.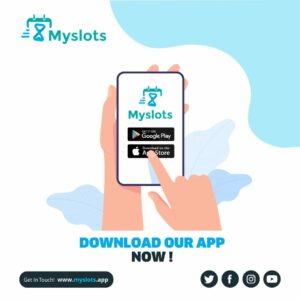 Sign Up for an account
To create a new account on Myslots, you'll need to provide your email address, phone number and create a strong password. You can also sign up before downloading the mobile application through this link. Once you've entered your email and password, click the "Sign Up" button to continue.
Enter your business name and define your sub-domain
Myslots allows you to register as a service provider. Enter your business name and define as subdomain to be used as URL for your booking page. This booking page will act as your website if you doesn't have one currently.
Select your main currency and country
Once you've added your business name and subdomain, you'll need to select your main currency to be presented for your services and also to be used to your reports calculations and revenues.
Select your timezone
Myslots allows you to customize your schedule and set your availability for appointments. for a specific timezone as per your location. You can choose the days and times you're available to work and block off time for personal appointments or events. This ensures that clients only book appointments when you're actually available.
Start Appointments Booking
With your Myslots account set up, you're now ready to start booking appointments. Clients can easily book appointments with you by selecting an available time slot on your schedule. You could also allow the online payment to start receive the payments for your appointments in advance directly in your wallet. You'll receive a notification of the appointment and can accept or reject it as needed.
In conclusion, Myslots is an intuitive and powerful scheduling app that simplifies the process of booking appointments and managing your schedule. By following the steps outlined in this article, you can quickly and easily register for Myslots and start taking advantage of its powerful features.